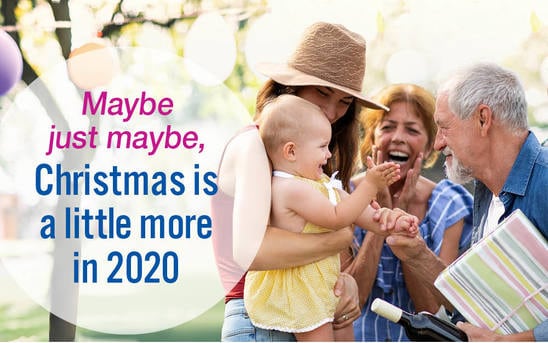 What if Christmas, doesn't come from a store. What if Christmas…perhaps…means a little bit more!" – Dr. Seuss
This year has looked different to other years, as the COVID-19 pandemic impacted our lives in many ways. As we look towards the festive season after what has been quite a challenging year for many, we need to consider how this celebration too might change.
It's not all doom and gloom. Gratitude has been a real focus to the year, and as a result many people are shifting away from the silly season's materialism and excess to reassess what Christmas means to them.
Our "new normal" festive season, can be one that is memorable and joy-filled, whether you celebrate this holiday or just enjoy unwinding at the end to the year.
Expressing Gratitude
Being thankful for what we have is important; especially so in a year in which bad news may have overpowered the good. While perhaps you will be unable to travel to your annual holiday destination or see as many people as you ordinarily would, it's helpful to focus on what you still have instead of what is missing.
Rather than merely being a buzzword, gratitude has been shown to reduce depression, anxiety and stress. Whether it's around the table at Christmas or in the lead up to the holidays, tell your loved ones what you're thankful for, as this can inspire them to also reflect on this. It can also help reframe the year from being one of hardship to also having contained moments of happiness and opportunities.
Creating Memories
As many of us have been separated from loved ones due to restrictions, the holidays provide an opportunity to reconnect in person. Even if you're unable to continue certain traditions, such as a family road trip or a big indoor gathering, what truly matters is the time you spend with those you care for.
Perhaps even new traditions can be formed as you create memories together. Depending on what the restrictions will become in late December, you might be able to spend time with family and friends trying something different – if there has always been one designated Christmas host, perhaps this year you have a family picnic where everyone brings a dish to share.

Supporting Others
Christmas time is synonymous with extending goodwill to all – and this year there are more people who are doing it tough as a result of the pandemic, as well as the bushfires earlier in 2020.
Give a helping hand to those who have fallen on hard times by volunteering some of your time to a worthy cause (such as a free meal service to those in need) or donating money if you're able to. These gestures can also reaffirm your understanding of what you have to be thankful for.
Reducing Overspending
Whether or not you were financially impacted by the pandemic this year, there is expected to be a trend of reduced spending over the Christmas period. A recent survey by Finder reported that 37% of Aussies plan to spend less on average this Christmas.
Last year Australians spent about $1000 each for Christmas on presents, decorations, travel, and charity donations. For 28 per cent of us, this expenditure meant using credit cards or buy now pay later (BNPL).
While many will use credit again this festive season, the current economic circumstances may make us think twice about our spending. It's not just what you spend, but how you spend that could make all the difference.
So, if you plan to use credit to help manage your Christmas spending, what are the options?
Buy Now, Pay More Later?
Even before COVID-19, more and more people were turning away from the traditional credit card and opting instead for a buy now, pay later payment method. BNPL providers in Australia include companies such as Afterpay and Zip, but there are many more.
The use of BNPL may be due to convenience or an aversion to debt, or a bit of both. In a recent report, the Australian Securities and Investments Commission (ASIC) found BNPL transactions jumped by 90 per cent to 32 million in the 2018-19 financial year.
Meanwhile, the number of credit card accounts fell 7 per cent in the 12 months to March 2020 from 14.6 million to 13.6 million. But for those who still use a credit card, it is estimated that more than 2 million Australians have gone over their limit since March this year as the economic slowdown takes its toll on household finances.
Initially BNPL was popular with millennials, but over time more baby boomers and Gen X have opted for this form of credit which boasts that it is interest free. Compare that with interest on credit card balances which are mostly in double digits and can even be as high as 20 per cent.
But don't be fooled.
Watch For Fees
There may be no interest rates on buy now pay later, but there are fees, and these can quickly add up.

All BNPL providers have slightly different terms and conditions, but fees may include:
Late fees of up to $15 a month
Monthly account keeping fees of up to $8 a month
Payment processing fee of $2.95 every time you make an extra payment
Establishment fees can range from zero to $90.
Of course, that does not mean you should avoid buy now, pay later offerings. If you meet all your payments on time, then it can be a useful form of credit. The key is to be cautious. For instance, do not run up debt with multiple providers. Not only can that prove expensive, but it can also be difficult to manage. It can soon become expensive if you have late payment fees to pay to several providers.
ASIC research found one in five BNPL users missed payments in the 2018-19 financial year. This translated into fee revenue of $43 million for providers, a jump of 38 per cent over the year and financial hardship for 21 per cent of users. As a result, ASIC said some people were cutting back on meals and other essentials or taking out additional loans to make BNPL payments on time.
Bank Alternative
Now the big banks are meeting the challenge of BNPL to traditional credit cards head on, with the launch of interest free credit cards and partnerships with BNPL providers.
While the new interest free credit cards have no interest charges or late fees, they typically have a minimum monthly payment and a monthly fee in months where you don't make a transaction.
Finding money for everyday items, let alone festive spending, has become a juggle for many this year. The gradual transitioning away from support payments such as Job Keeper and Job Seeker won't make things any easier.
To reduce your spending, set and then stick to a budget. Don't leave gift buying to the last minute when you're more likely to miss bargains or to panic buy. Also watch your usage of your credit card or buy-now-pay-later schemes so you don't have a debt hangover in the new year to worry about.
Whatever your financial circumstances, if you monitor your money carefully and make changes to your expectations, then there is no reason why this festive season can't be just as good this year as last. One of the lasting benefits of 2020 may well be that it makes us more proactive about managing our money wisely.
As this year wraps up, we would like to express thanks for your support during 2020 and wish each and every one of you a safe and happy holiday season.